The itinerary
update 17/01/19
Phase 1
Departure in September 2019 – duration approx. 1 year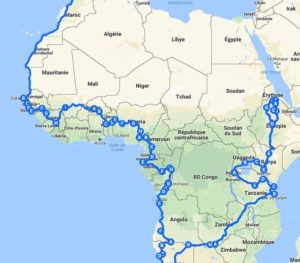 The project will begin with the African continent by traversing the following countries: Morocco, Mauritania, Senegal. Guinea, Mali, Burkina Faso, Togo, Benin, Nigeria, Cameroon, Gabon, Congo Brazzaville, DR Congo, Angola, Namibia, Zambia, Tanzania, Rwanda, Uganda, Kenya, Ethiopia.
This itinerary is not definitive. Other countries may be included and some countries avoided depending on politico-social and climatic situations. The pace will be slow to organize and animate events in schools and process information.
Due to the complicated political and security situation, air-freight will have to be envisaged out of Kenya or Ethiopia to the next phase or continent.
Phase 2
Latin America – departure still unknown – duration approx. 1 year
Theoretically, the project should continue in Latin America, starting with California in the USA and descending through Mexico, Guatemala, Honduras, Nicaragua, Costa Rica, Panama, Colombia, Ecuador, Peru , Bolivia, Chile, Argentina, Paraguay and Uruguay. A specific project could be dedicated to the relations between the Latin American countries on the one hand, but also, within each country to relations between the indigenous populations and the others.
Phase 3 – Stage 1
Silk Road – departure unknown, before the outset of winter in central Asia and after the monsoon in India – duration approx. 1 year
Travel through former Yugoslavia, Albania, Greece, Turkey, Iran, Turkmenistan, Uzbekistan, Tajikistan and Kyrgyzstan.
Departure for India via Xinjiang (Chinese Turkestan) and Pakistan by the Karakoram road (with passes up to 4693 m) through vertiginous mountain ranges. North India will be crossed from end to end.
Some passages still closed to individual international traffic may require variations, such as the expected crossing of Burma. The country is opening up and should be interesting. But access by road with an individual vehicle is not guaranteed.
Events in Burma, Laos, Cambodia, Thailand and Malaysia. Return by boat or plane to Calcutta (India).

Phase 3 – Stage 2
Inda and Pakistan
A specific project could be dedicated to the Indian subcontinent which suffers inter-ethnic tensions and difficulties with neighboring countries, particularly Pakistan.
Phase 4
Research and Development phase
Sedentary phase. The multimedia material collected throughout the trip will serve as a basis for the validation of existing textbooks and educational guides for the promotion of global citizenship and a culture of peace. To be developed in collaboration with educational experts and UNESCO Chairs.